Developmental Disabilities (DDD)
Housing-Finding a good, safe and affordable place to live is the just the beginning. We help individuals not only find their new place but help them to live independently in their new community. The communities we locate are all about them…places they want to live, close to family and friends, integrated into a larger diverse community.
Support Program – PennReach has staff who can support individuals (21 years or older) who live at home or independently through the Supports Program. With Community Based Supports, individuals can be as independent as possible while enriching their lives with high quality staff.
CCP-Individual Support -PennReach is a qualified vendor to provide agency hired supports to families who a loved one (21 and older) needs supports in their home.  This program used to be known as Real Life Choices.
We serve: individuals with developmental disabilities such as Asperger's, autism, downs syndrome, individuals who are blind/visually impaired, deaf/hearing impaired and have learning disabilities and those who also have physical disabilities-cerebral palsy, Multiple sclerosis, muscular dystrophy, traumatic brain injury.
Each person's path is unique. We find the supports needed; helping the person achieve success in their new home.

Services Include:
Each person's path is unique…
Each person's path is unique…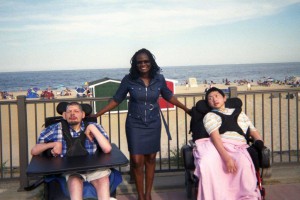 Our DDD Family
In our DDD program, our job doesn't end when we find housing for our clients. We provide daily support to our clients, helping them have all that they need to live independently, and to thrive, even including trips to the beach!
PennReach has an approved Behavioral Policy through the Division of Developmental Disabilities. PennReach works one on one with each family and individual to ensure that a comprehensive care plan is put into place to achieve a successful outcome for each individual. We invite you to explore and learn more about PennReach's programs available in your area by reaching out to Cristal Wagner, Chief Administrative Officer, via email at cwagner@pennreach.org or by phone at 609-462-5892.
| | |
| --- | --- |
| | Find housing to fit your specific needs. |
| | |
| --- | --- |
| | Be a part of changing people's lives. |
| | |
| --- | --- |
| | Support our efforts to help others thrive. |